About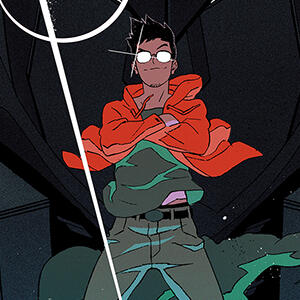 Borg Sinaban is a Filipino illustrator who specializes in sci-fi/fantasy, comics, and book covers. He has worked with local and international publishers, his notable clients include; Adarna House Publishing, BOOM! Studios, and Scholastic Asia.

His notable book projects include Studio Salimbal's Mythspace: Unfurling of Wings, Muros, and has also contributed to SOUND: A Comics Anthology By Difference Engine and the crowd-funded anthology, The SEA Is Ours: Tales of Steampunk Southeast Asia. The 2nd issue of his children's comic book series, Pilandokomiks (published by Adarna House) won the National Book Awards, Best Book of Graphic Literature in Filipino category back in 2014.

You can follow his work on Twitter or Instagram, or contact him through borgdraws@gmail.com.
Commissions
If you have a new or existing character and/or creatures that needs to be represented in a stylish and professional way, please consider me for the project. Make sure to read all the information and by commissioning me you accept the terms I indicate below. If you have any questions, please contact me at borgdraws@gmail.com.
PRICING AND SAMPLE
Bust / Portrait - $85

Full Figure - $125

Character Sheet - $200
GENERAL INFO
I can only do a limited number of commissions per month, it all depends on the complexity of each project. Your slot will be reserved only if you've made the (initial 50% or complete) payment.

Each commission can usually take from a few days to a couple of weeks.

The prices stated below is a general one, it may vary if the character has a high complexity in it's design and elements.

Commissions include a simple background, gradient with soft effects by default but color can be changed.

Work time for the commission will usually go from 1 week to a month, depending on the client's order. If you need a specific deadline date, please let me know. Commission price will adjust accordingly to the allotted working time.
TERMS OF SERVICE
Payments can be done via Paypal or Bank transfer.

The client is allowed to use the image for personal use only.

The client can ask for small changes as long as it doesn't require a big redraw of the image.

Once the artist starts working on the sketch, NO REFUNDS will be allowed.

The artist reserves the right to turn down certain inquiries.

Major changes are not available after the final art is approved by the client.

The artist may use the artwork for personal portfolio and promotional purposes.
By proceeding with the commission process the client has read and agreed to the terms. These terms are only applicable for personal use only commissions, for commercial projects please email me at borgdraws@gmail.com.